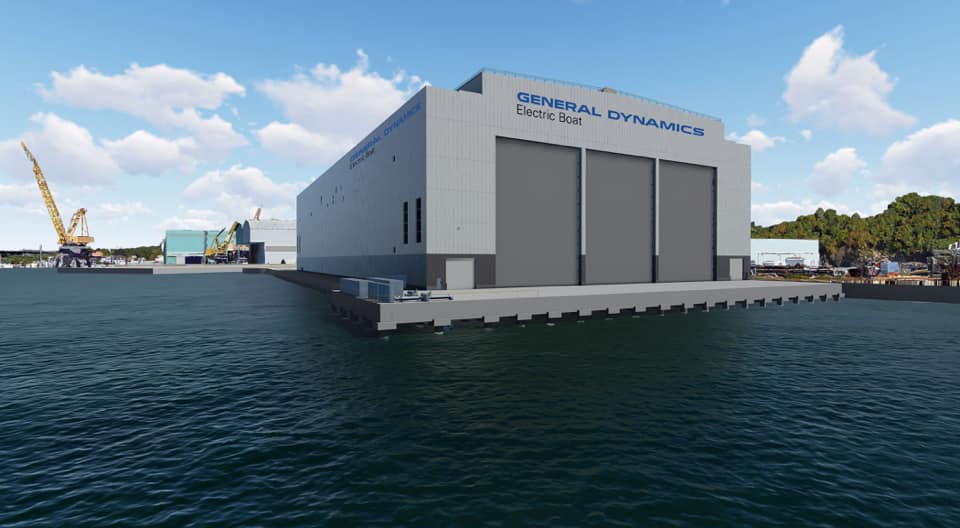 200,000 square-foot building to be built on seven acres at company's Groton shipyard
GROTON, Conn. - Electric Boat employees joined state, local and federal officials today at the company's Groton Shipyard to mark the groundbreaking of a new facility dedicated to construction of the Columbia class of submarines.
"This expansion will be the largest construction project to take place at EB's Groton shipyard in more than 45 years," said Jeffrey Geiger, President, General Dynamics Electric Boat. "The facility we break ground on today will enable Electric Boat to deliver the U.S. Navy's number-one acquisition priority—the Columbia class—our nation's next-generation fleet of ballistic missile submarines."
The South Yard Assembly Building (SYAB), a 200,000 square-foot building, will eventually be home to 1,400 skilled shipbuilders who will deliver the Columbia class to the U.S. Navy. The SYAB is the centerpiece of an $850 million expansion at the company's Groton Shipyard. The company will also expand and update other manufacturing spaces and build a floating dry dock to launch Columbia submarines.
AECOM of Los Angeles, California is the construction manager for the project. Gilbane Building Company of Providence, Rhode Island is the project manager and Jacobs Engineering Group of Dallas, Texas is the design firm.
In total, General Dynamics Electric Boat will invest more than $1.7 billion to modernize and upgrade its facilities over the next decade. In addition to the facilities in Groton, the company is investing $700 million at its location in Quonset Point, Rhode Island. Earlier this week, the company announced that it had completed construction of a facility at Quonset Point to support construction of a payload module to expand length, capability and capacity of Virginia class fast-attack submarines.
The investments in facilities are part of a broad company effort to respond to the expanded needs of the Navy. The company has hired about 14,000 new employees in the last eight years, and has made sizable investments in onboarding and training these employees who design, build and test the world's most capable submarines. Electric Boat has worked with its national network of suppliers to prepare for the 2.5 times increase in need for supplies and materials to concurrently build the Columbia and Virginia classes.
General Dynamics Electric Boat has a workforce of more than 17,000 employees at its three primary locations in Groton and New London, Connecticut, and Quonset Point, Rhode Island.
General Dynamics Electric Boat is a business unit of General Dynamics (NYSE: GD). Headquartered in Reston, Virginia, General Dynamics is a global aerospace and defense company that offers a broad portfolio of products and services in business aviation; combat vehicles, weapons systems and munitions; IT services; C4ISR solutions; and shipbuilding and ship repair. General Dynamics employs more than 100,000 people worldwide and generated $36.2 billion in revenue in 2018.
More information about Electric Boat is available at www.gdeb.com.
For more information about General Dynamics, please visit www.generaldynamics.com.